BJ - BIO
Henry David Thoreau once said: "If a man does not keep pace with his companions, perhaps it is because he hears a different drummer. Let him step to the music that he hears, however measured and far away."
This could indeed be considered BJ's directive in life. Everything has its own pace and its own rhythm. Nothing is fixed and everyone and everything needs the space and the freedom to develop into his or its own true self.
---
The critically acclaimed, award winning Cirque du Soleil has a reputation to only hire the best of the best. After almost five years and more than 1.700 shows with Cirque he has proven that he certainly is one of them and very well able to provide high quality drumming, acting and showmanship on a daily basis. Having played one of Cirque's most successful shows in practically any condition all over the world makes his dedication and stamina indisputable.
A scholarship holder for many years since he started studying drums at the age of eight he now is one of the busiest drummers on the planet with well over 2500 shows under his belt and many more concerts and recording sessions per year. He is a top-call drummer in many North American and European recording studios such as the famous Greenhouse and the Profile in Vancouver, Abbey Road, the Realworld Studios in the UK etc.
Being a talented multi-instrumentalist he has produced, arranged and recorded with many aspiring and established artists and producers. The list of his clients is long. Just in the recent years he has worked with Michael Picton, Denise Gonzalez, Jessica Beach, Monica Lee, Stephen Drake, Abigail Alvaro, Mavis, Cirque du Soleil, the Blue Man Group, Flic-Flac, Natalié, Roxi, Dean Collins and has composed and recorded music for corporations like Volkswagen, Active Blue and many more.
BJ is comfortable in the studio as well as on virtually any stage. His ability to read and write music charts and handle the most current studio and live-performance equipment helps him recreate an artists' recorded material accurately. Many of his clients appreciate his ability to play simple and solid as well as complicated and adventurous depending on the requirements. He is known for his ability to interpret and express an artists' intention. Most of this might come from the fact that BJ does not consider himself to be only a drummer but rather a musician and artist who has found his best tool to express himself in the drums.
Growing up in an environment where he was constantly exposed to many different styles of music makes it easy for him to adapt to many situations. He likes to play Jazz, Pop, Rock, Hard Rock, Punk, Metal, Lounge, Folk, World and Latin music.
The combination of his background, his work ethics and his technical skills makes him a unique and valuable drummer who delivers professionally and consistently.
Beyond all of that BJ is also a very sought-after clinician who is always happy to share his experience and knowledge with interested drummers and musicians of all ages. Currently BJ spends his time between his home studio in Germany and recording sessions all over Europe and North America.
Just very recently BJ has joined the Sheffield based punk band "Leather Zoo" and has completed a tour throughout England and Germany as well as recorded and co-produced their debut EP. He also runs his own studio that is equipped with the latest and newest state-of-the-art recording equipment and technology. In addition to that he has contributed to the recordings of Belgian chart breaker "Silvano" who is working on his follow-up to his No.1 album "Encore" and started to produce a new and aspiring German project called "Herzblut". He has just finished producing an album for the German stoner rock band "Flash Future", played some more concerts and performances.
---
A friend's introduction:

"Hello BJ fans, Quidam fans and drumming enthusiasts,"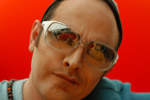 "My name is Craig Jennings. I sing on the show Quidam and have known BJ since 2000, when in Frankfurt, he first came to audition for the show. This, in itself, is a funny and memorable experience for both BJ and I. As it went, we had just played the German wheel song with BJ and just as the band stopped I piped up before our "band leader" even had a chance to share his thoughts. (this, by the way is completely out of line with what one does in one of these "formal", "show" sort of auditions.) You see, I had been in a rock band based out of New York City for about six years before getting on Quidam, and I was very used to speaking my opinion. (Especially where drumming was concerned.) I've had a few sticks thrown at me in my day. Yes, I was in a very "professional" band, in those days. But, at any rate, I told BJ on this day to play his hi-hat more open and grungy because that's the way I liked it. You see, I was ready to work with BJ from the first song I had heard him play on that audition. As it turned out, after that audition, I soon went on my break from the show and when I came back months later, there he was sitting behind his kit in the drum booth.
Now, I would love to share something in this little piece that I feel may give you an even better insight into BJ, the man. And that's, "you are what you eat and drink". This holds true especially for BJ. The man is on the skinny side of thin and he eats all freaking day long. If it's a break at the show, he is invariably sitting and chewing on a full plate of food. And, after the show, come the beers! BJ prides himself on drinking only the finest and the most. I believe Jever is his favorite bottle and on tap it's stout. (Lager beer is the perfect and refreshing drink for a hot summers night and stout the beer that keeps you warm and cozy in the winter - but there's nothing really wrong with having any of them at any time as long as they are good beers.) AND THEN THE NEXT DAY IT ALL STARTS AGAIN AS IF IT NEVER ENDED.
I especially love hanging out with BJ after the shows, having a few of his private, german stock of beer and listening to music. BJ often has a big intro story for a song he's about to play. He holds the CD up in his hand and spouts a story like, "this song, I first heard in a bar in Copenhagen". You see, there was this girl that worked behind the bar and she was hot, Maaannn!!!, I wanted to ask her out and, well, the song really tells the rest..." --then you hear a drum groove and BJ starts groovin' in his seat with a big grin on his face, feeling fully satisfied to be a musician and especially, a drummer.
C." -Summer 2005
For more information on Craig Jennings aka. Mavelvis and his work with BJ please visit:
Mavelvis' official webpage