BJs live setups
BJs live sets come in various shapes and sizes. While he likes to adapt his setup to the need and the feel of the gig he plays, he also likes to use his own "standard" setup. It is a slightly bigger kit but that leaves him with a great choice of sounds and accents.
BJ: "I love the fact that I can use various sounds and atmospheres when I use a bigger kit. Most people see a big drumset and think that this necessarily means that I am a busy drummer who always uses the entire setup and plays all over the place. To me that's like thinking, a driver always drives in all gears at the same time. There's the right gear for the right time and the right speed. I love just to groove and close my eyes and ignore all the toms and cymbals that I have. But it is a great gift when I can open my eyes and pick a cymbal or tom to play an accent; when I can decide to let hell break loose for one second - even if I don't do it then. It might be compensation but hey, I am ok with it... hahaha."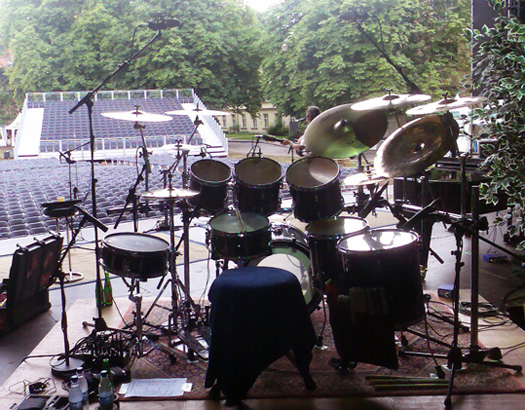 BJ's live setup is very similar to his studio setup with the exception that he sometimes uses a second snaredrum on the left side of the Hi-Hat and sometimes also adds a second, closed Hi-Hat in 12" on the right, just below the ride cymbal.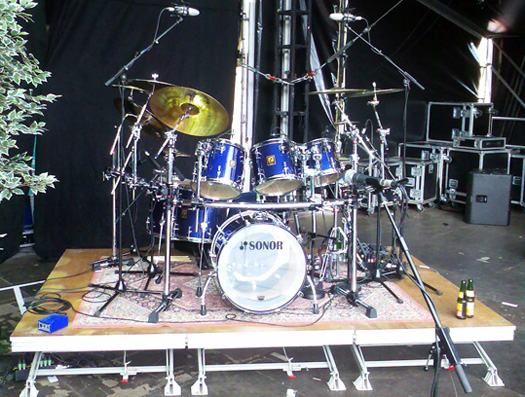 With Roger Hodgson 2008 - live in Berlin.
---
More info on BJs gear
BJs artist page with his setup at SABIAN.com
BJs artist page at Hardcase.com
BJs artist page at ProMark.com